About Us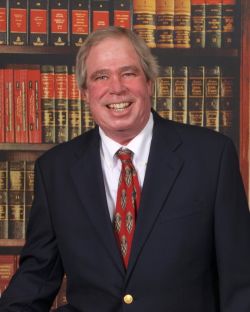 Mr. Wright is a 1973 graduate of the University of Texas who then graduated from the University of Houston Law School in 1977, magna cum laude. He became Board Certified in Personal Injury Trial Law in 1982 and is rated "AV" by Martindale Hubbell and has been since 1984. During his over 35 years of experience, he has successfully made monetary recoveries, both by settlement and jury verdicts, for his clients. He is known as a creative and resourceful lawyer and has handled a wide and diverse field of cases within the personal injury and wrongful death arena. In 2006 and again in 2007, Mr. Wright was rated one of Houston's top lawyers by H Magazine. In March 2013, he was featured in Texas Legal Leaders Presenting Top Rated Lawyers. He was a featured speaker at the 17th Annual Insurance Law Institute sponsored by the University Of Texas School Of Law in October 2012.
In addition to his ability to try a case in front of a jury, his appellate skills have lead to two major decisions which changed the law in favor of the injured and the families of those wrongfully killed. In Blackwell v. Harris County, Texas, 909 S.W.2d 135 (Tx. Ct. App. – Houston [14th Dist.] 1995, petition denied by the Supreme Court), Mr. Wright was successful in getting the Court to rule that an off duty Sheriff's Deputy's children were entitled to recover death benefits when the Deputy was involved in traffic control. In a subsequent jury trial, the jury found that Mr. Blackwell was acting in the course and scope of his employment and that his children were entitled to compensation benefits.
In All-Tex Roofing, Inc. v. Greenwood Insurance Group, Inc., et al.; 73 S.W.3rd 412 (Tx. App. – Houston [1st Dist.] 2002 ) the court held that the statute of limitations against an insurance agent for failing to obtain the proper insurance coverage did not begin to run until the judgment was entered against the insured. This case arose out of a lawsuit against a roofing company on behalf of an immigrant worker who obtained a significant jury verdict for injuries that he sustained while acting as an employee for the roofing company's subcontractor. During the pendency of that case, the roofing company's insurer went bankrupt; after the verdict, the company assigned its cause of action against its agent to the injured roofer.
In April 2005, Mr. Wright obtained a million dollar verdict on behalf of Kloesel's Steakhouse against its insurance agent, Insurance Network of Texas. That verdict was affirmed by the court in Insurance Network of Texas v. Kloesel, 266 SW3d 456 (Tx. Ct. App.- Corpus Christi, 2008; pet. den.), Other appeals that Mr. Wright has handled include: In Re Houston, 92 SW3d 870 (Tx. Ct. App.- Houston [14th Dist.] 2002); Foreman v. Security Insurance , 15 SW3d 214 (Tx. Ct. App- Texarkana, 2000); Macias v . Schwedler, 135 SW3d 826 (Tx. Ct. App.-Houston (1st Dist.) 2004); Olivia Johnson v. Calhoun County Independent School District, 943 SW2d 496 (Tx. Ct. App.- Corpus Christi 1997); Frankoff v. Mutual Life Insurance of New York, 792 SW2d 764 (Tx. Ct. App.- Houston [14th Dist.] 1990), No. 14–10–00757–CV, 14th Court of Appeals 2011, Johnson v. City of Bellaire, rev'd and rendered by the Texas Supreme Court in a Per Curiam opinion in 2013.
---